Image by sbpoet via Flickr
This is a mini-workshop. Studying other forms of art is a classic way to inspire your own creativity. If folk art or its style don't resonate with you right away, give it time--assimilation of a new art may come gradually.
This week we look into
Folk Art
.
What is Folk Art?
Folk art is the art of the everyday
Folk art is rooted in traditions that come from community and culture
Folk art expresses cultural identity by conveying shared community values and aesthetics
Folk art encompasses many mediums, including cloth, wood, paper, clay, metal, and more. If traditional materials and inaccessible, new materials are often substituted, resulting in contemporary expressions of traditional folk art forms
Folk art reflects traditional art forms of diverse community groups-- ethnic, tribal, religious, occupational, geographical, age or gender-based-- who identify with one another and society at large
Folk art is made by individuals, whose creative skills convey their community's authentic cultural identity, rather than an individual or idiosyncratic artistic identity
Folk artists traditionally learn skills and techniques through apprenticeships in informal community settings, although they may also be formally educated.
Master folk artists demonstrate superior levels of craftsmanship and creativity, often introducing new materials and innovations that express both traditional and contemporary imagery and values, in this way, traditional folk art forms evolve as dynamic, living traditions
Folk art fosters connections between art and people with a creative spirit that unites all the cultures of the world.
Make Your Own Folk Art
Try applying one of the above definitions to your own folk art. This could mean remaking a project in another style or designing a new piece entirely. Folk art as the art of every day could translate to a beaded pillow, a decoupaged vase, a decorative lampshade, or a stamped folk art-style boxes, like the ones below.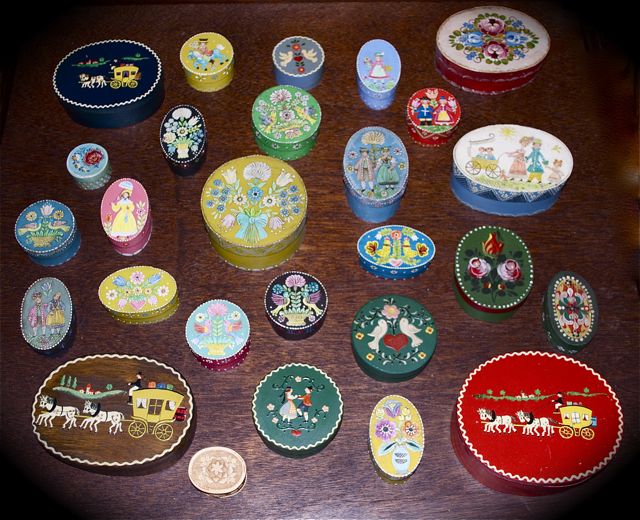 Rubber Stamping Air-Dry Clay
This technique creates the effect of hand-carved clay but it's as simple as rubber stamping
Supplies
:
Air-dry clay, roller, art stamp and ink,
acrylic paint
, sponge, varnish brush, water-based varnish
Start with a clean flat surface. Pinch off a chunk of air-dry clay and use a roller to flatten it to a shape about 1/4" (6 mm) thick. Stamp the piece with the
rubber stamp
, then let the ink dry completely. To decorate the stamped image, rub acrylic paint on the surface, into crevices, or around the stamped object.
Remove paint from any indented areas with a damp sponge. Repeat the process with other colors or gold-toned. Let the paints dry completely, then coat with water-based varnish to finish.