Email or PM your partner with information about one of the celebrities (previously unknown to you) who shares your birthday
I had so many to choose from some of whom I only became aware of recently like Simon, V Putin and Bishop Tutu in the end I chose a pop singer I have heard about but never seen before; Cheondung, love that pink hair :)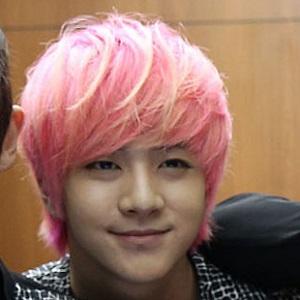 This is what his bio says:
About
South Korean vocalist who gained famed as a member of the boy band MBLAQ. MBLAQ won the 2011 Soompi Gayo Award for Top Male Group of 2011. He has also made numerous appearances on reality shows like Star King and We Got Married.
Before Fame
His original dream was to become a professional soccer midfielder. ???? he looks too small
Trivia
His good looks have led to a career in modeling, and he was named by Wanna Girls magazine as a Fashionista Icon.
Family Life
His older sister Sandara Park is famous for being a member of the South Korean girl group 2NE1.
Associated With
He was a special guest MC alongside
Lee Joon
as host of "M! Countdown" in 2013.
Its mixed Korean and English but I love the beat!